Consulting
We Can Help You Succeed in Your Manufacturing Environment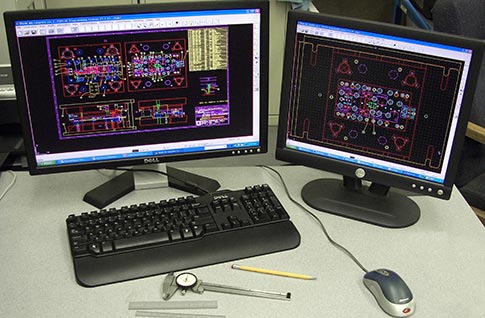 Our consulting services offer customers the expertise needed to set-up a successful metal forming line in their own manufacturing facility.
We are experts at developing the proper workflow and systems needed to deploy a production line.
Doing so requires an understanding of material shearing, material forming, material springback, die design, die materials, die build, die maintenance, manufacturing set-up, manufacturing operation, product quality control, secondary process operation and process capability. Deploying a production line also requires a solid foundation in manufacturing production, inventory management and JIT manufacturing practices.
We can help you evaluate both pros and cons of outsourcing versus installing your own production line to determine which is the best decision for your company.
Our initial consultation is free, so contact us today.
Tooling Design

We design and build our own high quality tooling. (more)
Prototyping

Our prototyping service quickly speeds your products to market. (more)
Consulting

We offer customers the expertise needed to set-up a successful metal forming line. (more)
Value Added Services

At Beloit Precision we go the extra mile to help you manage your supply chain. (more)